How Many Pairs of Period Pants Do I Need To Take Care of My Period?

Have you wondered how many pairs of period pants you'll need for each cycle?
We get asked this question a lot, and it's a good question. You want to know how many pairs to buy so you can allow WUKA to take care of your flow.
So, we've put together three women's experiences of using period pants, to find out how many they use per cycle. Hopefully, these answers will help you to decide how many pants you'll need.
Ruby only uses WUKA period pants to take care of her period.
She has a 5-day cycle with her 2nd and 3rd days being her heavy flow days.
Ruby uses period pants as follows:
Day one - One pair of light flow underwear. This saves her from ruining bed sheets and nice clothes.
Day two - She wears two pairs of heavy flow pants throughout the day. One pair of underwear lasts her six hours and then she changes into her second pair. Before going to bed, she wears another pair.
Day three - The night pair before last her till mid Day of day three. She then changes to a medium flow pants and wears them throughout the day. She then wears one medium flow overnight allowing her to have a good night sleep with no leaks. (Total of 2 medium flow)
Day four - She wears one pair of medium flow pants during the daytime and one light flow at nighttime.
Day five - She wears one pair of light flow pants.
Total = Ruby has three pairs of heavy pants, three pairs of the medium pants, and two pairs of light flow period pants.
Cost: £175 for two years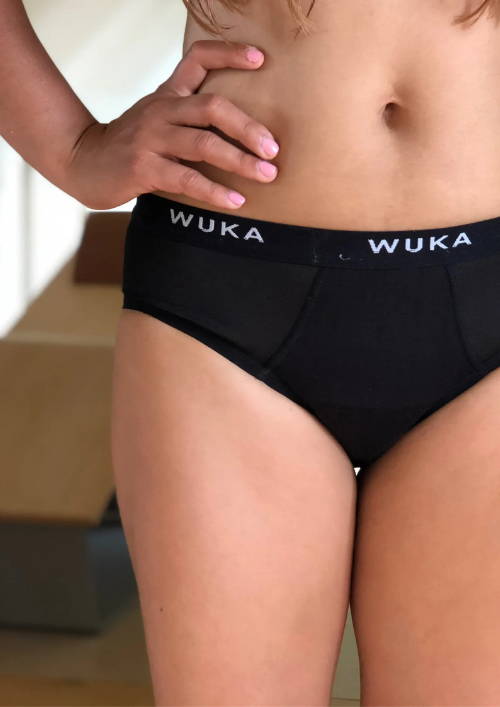 Amy: one of our customers who used cloth pads, WUKA pants.

We asked one of our lovely customers if she would be happy to share her experience of using WUKA to manage her period. Here is Amy's experience.
Amy uses three reusable products whilst on her period. She uses cloth pads, WUKA pants, and she is trying to get used to a menstrual cup.
Amy's cycle has been irregular and unpredictable for years. Although, at the moment she is having mostly regular bleeds, with her period lasting about nine days.
We asked Amy about her use of reusable period protection:

I'm slowly moving towards hopefully using WUKA as my primary source, but as you can see I have a long period (sometimes I have ten days and then two days off and it starts all over again for a few more days). So it involves a lot of washing and they're unpredictable! As my periods are so long, it really helps to have the pants because so much of my life is spent wearing something, so I want to be comfortable and protected. They really are the most comfortable solution I've found and I'm so glad I did find them! Thanks for everything you do."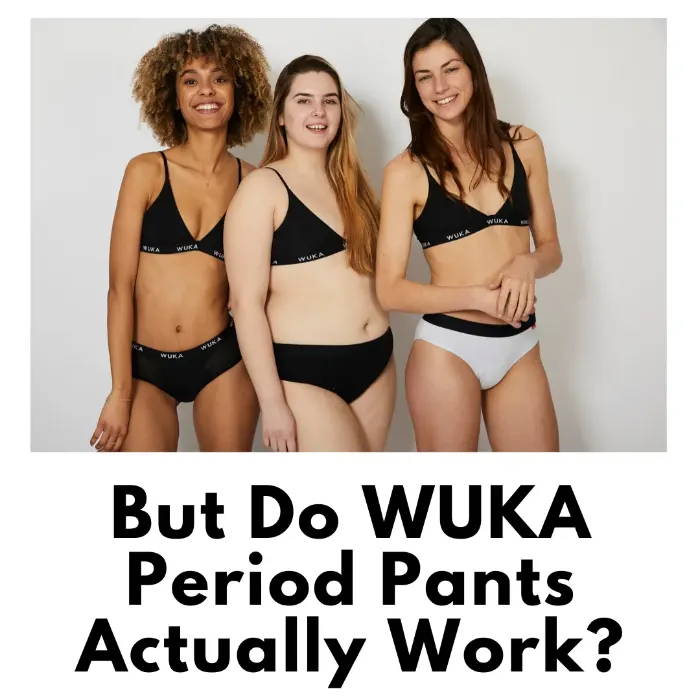 Amy's diary of period products
Amy's current daily period protection use is:
Days one and two - Amy has a very light flow and uses a light cloth pad during the day.
Day three - She has a light flow and uses WUKA light pants during the day and a medium cloth pad at night.
Day four - Amy experiences a medium flow and uses medium WUKA pants during the day and a cloth pad at night.
Days five and six - Amy has a heavy flow over the two days and uses two pairs of medium WUKA with the possibility of a cloth pad if surprisingly heavy. Amy has ordered WUKA heavy to wear on her heavier days.
Day seven - Her bleeding reduces to medium flow and Amy uses medium WUKA during the day and a cloth pad at night.
Days eight to ten - Amy has a lighter flow and uses cloth pads.
Amy currently owns two light pair and two medium pairs and one heavy pair.
Total cost on WUKA £80 as she received them during annual sale at WUKA.
Rebekah's Period product Diary

Rebekah has used WUKA period pants over the last year and a half. She uses a couple of reusable and organic options, which are WUKA pants, a menstrual cup, and organic liners.
Day one: Rebekah has a light flow and uses one pair of light pants during the day and one pair at night.
Days two and three: She experiences a heavier flow and will wear her menstrual cup with a heavy pair of period pants so she doesn't have to worry about leaks. She will reinsert her cup at night time and pair this with WUKA heavy flow pants.
Day four: Rebekah has a heavy to medium flow and will use her menstrual cup paired with medium flow underwear. Again, this allows her to feel comfortable and safe against leaks. She wears her cup during the night with a pair of medium underwear.
Day five: Rebekah's flow lightens and she can wear a light pair of WUKA throughout the day and one at night.
Days six and seven: Rebekah experiences light spotting and will use organic liners.
Total: Rebekah has two light pairs, two medium pairs, and three heavy pairs of WUKA.
Cost: £150.93 for two year.
Rebekah had this to say about WUKA pants, "I think WUKA period pants are fantastic, they are extremely comfortable and I don't feel as though I'm wearing big, bulky pants. They provide me with confidence and security during my period. I recommend them to everyone and I really do wish I had had access to them when I was younger. They are the perfect solution for girls who have just started their periods."
We hope that sharing these three women's experiences of using WUKA has provided you with insight and guidance on how many pants to buy for your flow.
Everyone's period is unique, how many days we bleed for and how much we bleed varies. When working out how many pants you'll need, remember that you can wash and dry your pants at the beginning and middle of your cycle, to wear again at the end of your period.
If you have any further questions about how many pairs you need for your flow, please contact us, we'll be more than happy to help.
Can't wait to get knicker shopping, head over to our website.
---